500g mixed, dried fruit
100g chopped dates
100g stem ginger, drained and chopped
2 oranges, zest and juice
225ml Guinness or stout
­­­­­­­­­­­­­­­­­­­­­­­­­­­­­—————————-
50g chopped almonds
200g vegetable suet
2 eating apples, grated
100g dark brown sugar
5 tbsp black treacle
100g self-raising flour
85g breadcrumbs
100g ground almonds
1 tbsp mixed spice
1 tsp ground ginger
½ tsp ground cloves
3 large eggs
The day before baking, in a large bowl, soak all the dried fruit in the Guinness or stout, cover and leave overnight.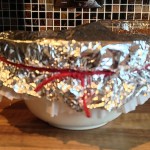 Grease the pudding basins.
Add all the remaining ingredients to the soaked fruit and mix well, making sure there are no pockets of flour.
Divide between the basins and cover fairly loosely with baking parchment and a foil lid as there needs to be room for the pudding to rise.(see pic) Tie tightly with string.
Stand the puddings in large saucepans and pour in enough boiling water to come half way up the basins.
Bring to the boil, cover with a well fitting lid and steam for 6 hours, topping up the water where necessary.
Once cooked, keep them in a dark place ready for Christmas.
To reheat, steam for approx 1 hour.
 This is a slightly different take on a traditional pudding, because of the warming ginger, but just as delish!
Suitable for vegetarians!