All of my kitchen gadgets are useful and I wouldn't be without them, but here is a list of my Top Ten die hard that I really couldn't (or wouldn't) be without!
1) FOOD MIXER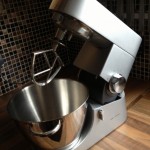 An absolute must in my kitchen. I use it in some way for nearly every piece of baking I do. Why spend time beating at mixture with a wooden spoon? An electric mixer, whether stand alone, or a hand mixer, takes the hard graft out of baking.
It is worth spending money on getting a good brand, as they last for years. It may take up space on my work top but saves cupboard space for stand alone gadgets that come as small attachments to fit on it, as you will see……….. 
2) FOOD PROCESSOR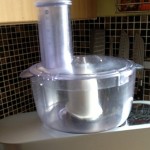 This is high on my list and one of the attachments for my mixer. I got tired of grating carrots and cheese and other foods that required painstaking amounts of time, especially as I get arthritis in my hands and wrists.
A good processor will come with a blade and other discs for grating, slicing and chipping and so on, either as a stand alone gadget or as an attachment for your mixer.
3) BLENDER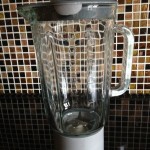 My blender is another very useful attachment for my food mixer. I use it for smoothing soups, making smoothies, blending ice creams and lots more.
I prefer a glass blender as it is more durable, less prone to scratches and is dishwasher friendly. I also made sure it was a good enough one to crush ice for my smoothies. It is worth researching this, so you do not ruin the blade.
4) SCALES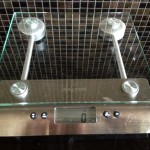 Scales come in all shapes, makes and sizes, so you need to think about what you generally use them for before you decide upon the right ones.
I chose digital scales as I find they are more accurate and weigh in both imperial and metric. (Pounds/ounces and Kilos/grams) I also chose flat scales over bowl shaped as I can use it to weigh larger items. (eg parcels) It also makes it easier to weigh everything into the mixing bowl.
5) KNIVES and RACK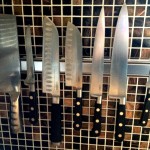 I tried a knife block, but find this dulls the blades and takes up yet more space, so a magnetic one keeps them on the wall and away from little hands!!
When choosing knives, it is best to invest in a good set that has the metal of the blade extended right through the handle. They will last longer and stay sharper, although regular homing is important. There's nothing worse than trying to slice onions or tomatoes with a blunt blade!
6) PAN RACK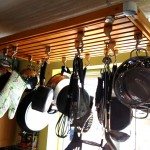 My pride and joy!!!! When we moved in, my husband wanted a dish washer, but we hadn't the space to lose a cupboard full of pans, so I agreed as long I could have a large rack.
I love it as it holds more than just pans….. balti dishes, sieve, oven gloves and also utensils. I just add hooks where I need. Definitely one of the best buys in my kitchen. A good department store with a large kitchen section was the place where I got mine, and I decided on wood, but they come in metals as well.
7) MINI CHOPPER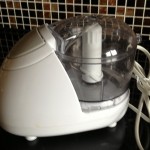 There are many times that the food processor is to large for ingredients, such as bread crumbs, biscuit crumbs for bases or chopping small amounts of herbs and spices, so a mini processor is ideal for these things. Just be careful that you do not over load it.
My chopper is a well known brand with 2 speed settings, although I rarely use the slower speed.
8) STONEWARE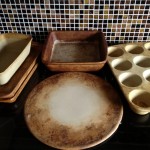 For me, since I discovered stoneware, there is no other way for me to cook. I am a total convert! A small collection like this means I have every piece of oven ware I need. THe stone ware goes darker and more non stick, the more you use it. The unique things about stoneware are as follows…
a) After the first couple of times, there is no more need to grease it as it holds the oils in the stone. This makes the stone non stick and cooking healthier. b) The stone heats up evenly and so cooks food more evenly. It also keeps food warm for up to half an hour after it has been removed from the oven. c) Stone is scratch proof, whereas tins lose their non stick surface with scratches from metal utensils. d) All you do to clean it is scrape it with a provided plastic scraper and wipe it over with a cloth. The oils do not transfer to other food. Warning - Do not immerse in water or put in the dishwasher or the stone loses the oils and it's non stick ability and the stone becomes porous!!
9) SLOW COOKER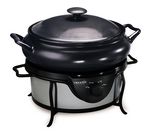 I rarely do casseroles and stews either on the hob, or in the oven. It is easier and cheaper to use a slow cooker and you can not beat the infusion of flavours or the tenderness of the meat after it has been simmering for several hours.
All you need to do is remember to pop everythin in the pot early enough, or even the night before.
10) STEAMER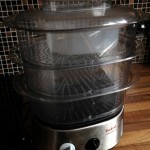 I started using a steamer for vegetables when I realised that a four ring hob only hosted four items or less, depending on the size of your pans!  Vegetables done in the steamer are tastier and healthier, as the flavour is not boiled or simmered away.  You can also steam puddings and do rice and pasta in it.   
My steamer is quite a large one, again, a well known brand and it has lasted for years. Mine also has a keep warm function, which I find very useful as I don't have to worry about timing the veg with the rest of the meal.